Colorado P.E.O. Charitable Corporation
CPCC was originally organized in 1949 as a fund to collect donations for the purpose of fulfilling the charitable mission of P.E.O. in Colorado. By 1963 there were sufficient funds to purchase property in Colorado Springs and construct a residential home for P.E.O. members which was named Colorado P.E.O. Chapter House. In an effort to attract additional individual donations and endowments, application was made in 1965 to the Internal Revenue Service to be granted the charitable status of 501(c)(3), thus allowing individual donations to be tax deductible. CPCC's ability to provide charitable considerations was expanded in 2012 with the transfer of Colorado Marguerite Fund from the oversight of Colorado State Chapter to Colorado P.E.O. Charitable Corporation. Today, the 501(c)(3) status of our member-owned corporation helps allow our two projects – Chapter House and Marguerite Fund – to serve the charitable needs of our sisters. The name of our corporation has gone from "Colorado Foundation Fund" in 1949 to "Colorado P.E.O. Chapter House, Inc." in 1965 and finally to "Colorado P.E.O. Charitable Corporation" in 2012. The name changes reflect the evolution of the charitable purpose of the organization.
How is CPCC funded?
Colorado P.E.O. Charitable Corporation is a member-owned organization which operates under the guidance of a Board of Directors, the Colorado Executive Board and, ultimately, the Executive Board of P.E.O. International Sisterhood. As with any organization, CPCC incurs operational expenses. Unlike our chapters (local, state and International), CPCC does not charge membership dues. Our expenses are paid by the generous donations of individuals and Colorado P.E.O. chapters. These donations are separate and distinct from project donations designated for Chapter House and Marguerite Fund. 
How to ensure that donations, go to CPCC or to the intended project?
Ensuring that individual or chapter donations go to CPCC or the intended project is simple. All donations are to be accompanied by the official CPCC Donation Form. The donation form asks to which project(s) you would like your donation to be applied.
What are the fundraising guidelines for CPCC?
As with State and International projects, fundraising is the responsibility of individuals and chapters. Our Board of Directors, Boards of Trustees, and employees are not required to engage in fundraising efforts other than asking for your donations. Your chapter is encouraged to fundraise following the guidelines established by International Chapter. Proceeds from your efforts are welcome donations to our corporation and our projects, as well as to Colorado State projects and International projects. Individuals are also welcome to engage in fundraising efforts, in accordance with International guidelines, to benefit our projects.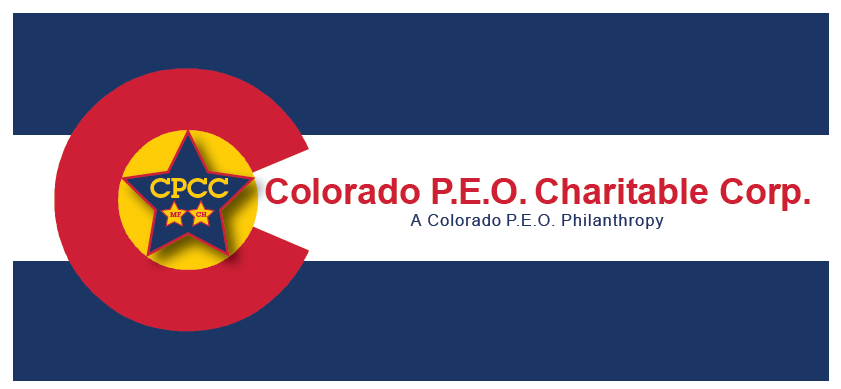 COLORADO P.E.O. CHARITABLE CORPORATION (CPCC) BOARD OF DIRECTORS (BoD) 
The CPCC BoD consists of 4 directors, the Chair of the Marguerite Fund (MF) Trustees, the Chair of the Chapter House (CH) Trustees, and ex-officio members Colorado State Chapter President (voting) and Colorado State Chapter Vice President (non-voting). 
Cheryl Burnside, ES (2019-2021)
cherylburnside@aol.com
303-807-7565
Susan Strain Miller, W (2018-2022)
ssm4703@gmail.com
719-384-4703
L J Van Belkum, JA, PSPCSC (2019-2023)
lj.vanbelkum@comcast.net
719-649-0317
Jill Hyde, JI
jillhyde@hotmail.com
303-520-1210